Sophie Hittner Scholarship
This scholarship was created to honor a single parent who exemplifies family commitment and community engagement.  Sophie Hittner was a high school graduate — a mother and homemaker — then a widow and sole financial support for our family, after our father died after a long illness. We were 12 and 14.
Our mother was both simple and wise. She taught us the value of education and hard work, and she volunteered her time to help others. One example stands out. In the 1940's, she was a March of Dimes volunteer, collecting money door-to-door each year to cure polio. In 1955, when the Salk vaccine virtually eliminated polio as a health threat in the world, she said quietly, "I feel that perhaps I contributed a very small part to this success."
The recipient of this award will honor Sophie Hittner and her dedication to the concept of "family." We hope you will continue to care for and assist others in the years to come and pass on these values to your children, and to the children of your community, as our mother did for us.
Dr. Amy Hittner & Judge David Hittner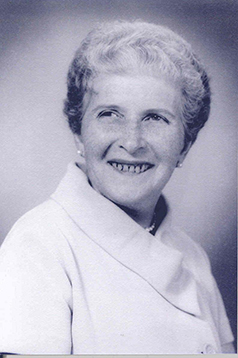 SOPHIE HITTNER SCHOLARSHIP in the amount of $500 honoring a SINGLE PARENT
Exemplifying excellence in scholarship and a strong commitment to his/her child(ren) and to the community of children in the San Francisco Bay Area.
Application Criteria
Annual Award— Decision made during the fall semester of each year and the scholarship is awarded the following spring.
Undergraduate student currently attending SF State at least half-time, and continuing as an undergraduate the following spring.
Single parent with at least one child under 18 living in the home at the time of award.
Other
Headstart parents and graduates are especially invited to apply.
Applicant may receive the award twice during his/her undergraduate studies at SF State.
Competitive Criteria
Overall GPA of 2.75 or above
Autobiographical statement that addresses:

your motivation for pursuing a degree as a single parent
your short-term and long-term career goals
your academic background and achievements
a description of your past, current or planned engagement in community service or volunteer work that serves children
your paid or volunteer work experience
your financial need
any adversity you've overcome in pursuing your education
How To Apply
Applications are submitted through the Academic Works website: Sophie Hittner Scholarship Application.
Log in to Academic Works  to submit the following:
A 1-3 page autobiographical statement
Current transcript(s)
Application period opens: November 17, 2023.
Deadline for applications: January, 3, 2024.