Spring 2022 FYE Events: Hosted by Peer Mentors!
All events are open to all SFSU students. All times are listed at Pacific Time. ASL, closed captioning, and other reasonable accommodations can be provided upon advance request. Please contact firstyear@sfsu.edu  with any questions.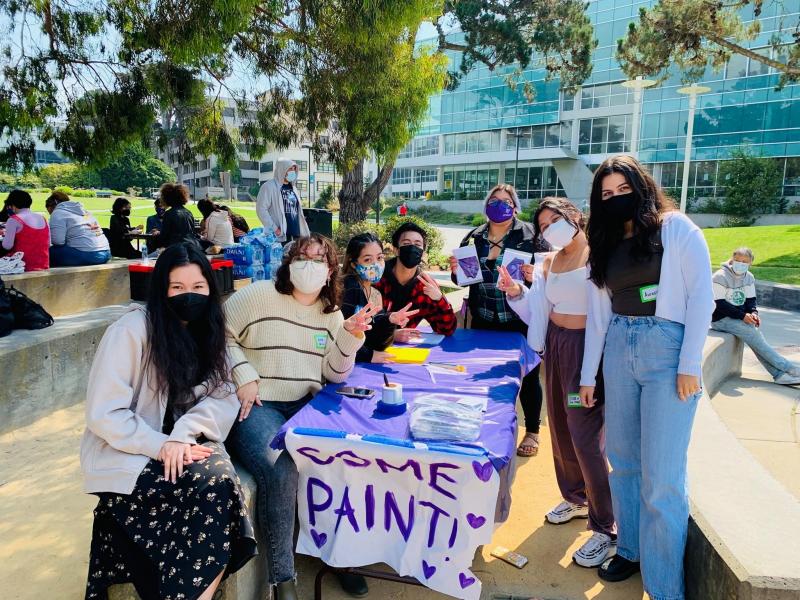 Peer mentors at our in-person painting picnic on Friday, September 17th!
(from left) Skye Taliaferro, Nina Moskowitz, Katrina Rosello-Duenas, Lorenzo Abecia, Betsy Centeno, Olivia Aquino, and Audrey Parker
Save the Dates!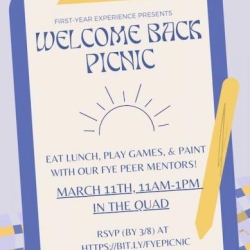 Friday March 11, 2022 Welcome Back Paint and Picnic 11am-1pm, Quad
Eat Lunch, Play Games, & Paint with our FYE Peer Mentors!
March 11th, 11AM-1PM
In the Quad
RSVP (by 3/8) at :  https://bit.ly/fyepicnic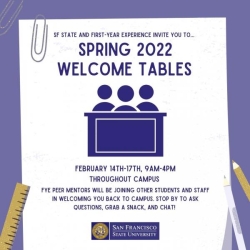 Monday February 14-Thursday February 18 Welcome Back Tabling!
FYE Peer Mentors will be joining other students and staff in welcoming you back to campus.
Stop by to aks questions, grab a snack, and chat!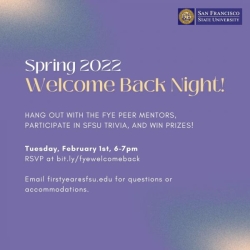 Wednesday, August 18, 4:00-5:00pm: Welcome Back Mixer
Hang out with the FYE Peer Mentors
Participate in SF State Trivia
Win Prizes!